Columnist: Eyes to the Sky in The Berkshire Eagle
SELECTED COLUMNS
The Broadsheet • The Broadsheet Daily • The Berkshire Eagle • Other Selections

"Eyes to the Sky" The Berkshire Eagle in print & online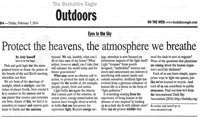 click to read
The Berkshire Eagle, February 7, 2014
Eyes to the Sky
Protect the heavens, the atmosphere we breathe
by Judy Isacoff © 2014

Just want to drop you a note to let you know how much I enjoy your "Eyes to the Sky" column in the Berkshire Eagle. I am 69 going on 10 and still enjoy learning. You make it fun in your column.
-- Carol Ann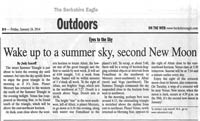 click to read
The Berkshire Eagle, January 24, 2014
Eyes to the Sky
Wake up to a summer sky, second New Moon
by Judy Isacoff © 2014

I just ADORE your writing! It's beautiful - so beautiful. You're such a teller of nature's tales...I love reading it. Maybe a book...maybe a daily book....that's what I'm a-thinking!
-- Connie Barron, Singer and Actress